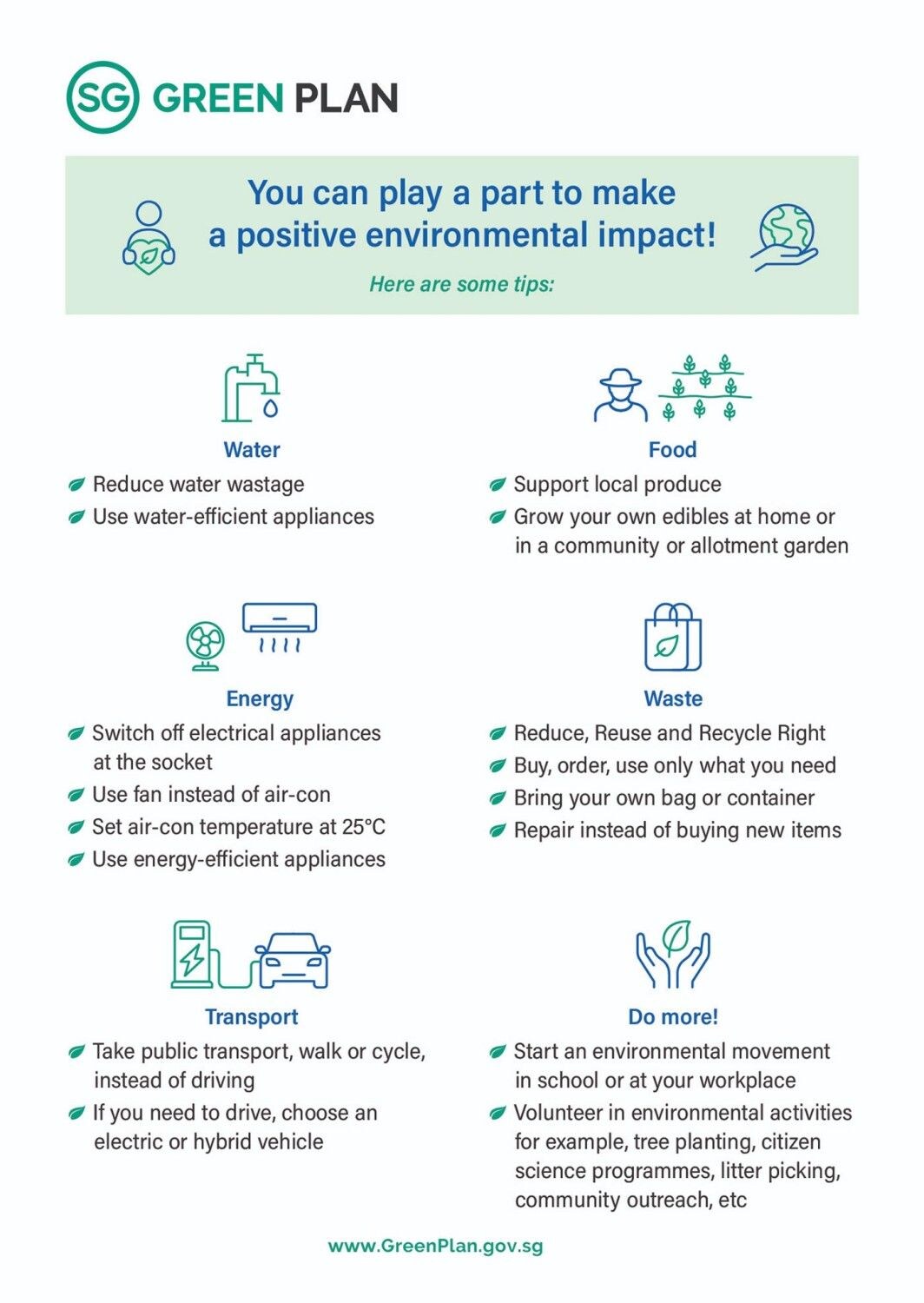 In February 2021, the Government of Singapore launched
The SG Green Plan
. It is a robust and ambitious national sustainability movement to garner collective action across all parts of society to combat climate change in the next ten years.
The Green Plan has five main pillars:
Growing a city in nature - by increasing the amount of green spaces, natural landscapes, lush vegetation and natural parks
Energy reset - moving towards green energy in aviation, maritime, and finding alternative renewable sources of energy and options for buildings, town, and vehicles
Building a green economy - by greening existing industries, growing new green opportunities and upskilling and creating more jobs in sustainability
Creating a resilient future - by adapting to natural disasters and local food production
Sustainable living - by encouraging citizens to consume and waste less.
The Green Plan charts out a ten year plan with defined targets to achieve Singapore's climate ambition. The goal is to slowly but significantly, reduce our waste, water, and carbon footprint by up to 30%. So, what steps can we all take to start our sustainability journey?

Sustainability starts right from home!
Every step you make towards
living sustainably
matters and starts right at home. It is inevitable that from the moment we wake up to the end of our day, we generate waste, water, and increase our carbon footprint. From brushing our teeth in the morning and taking a shower to cooking our dinner and washing our dishes.
Being conscious of our water usage and waste production is one way to build more sustainable practices in our life. Do you take note of how many times a day you throw food in the trash, or maybe how long you stay in the shower?
A new survey on
The Straits Times
found that showering, flushing, kitchen activities and laundry are the biggest contributors to water use, forming up to 77% of total water used in a home.
The good news is that there are appliances that can help us to be more mindful. Consider using a dishwasher versus hand-washing. Although this is uncommon in Singapore, and Asia,
dishwashers are said to use 9x less
water than hand-washing with water running from the tap.
When it comes to energy use, simple everyday actions like turning off the switches after use, removing plugs from energy sockets, keeping your air conditioners set at 25 degrees when they're on and taking shorter showers in cold or lukewarm water, are options that will help to dramatically decrease the overall energy consumption within your home. Opt for energy saving appliances by choosing the home appliances that fit your home and needs to ensure that you're only using what you require.
From the start of the year, the NEA has raised the
Minimum Energy Performance
of household appliances like fridges, air conditioners and clothes dryers. Home appliances found in department stores will now have to increase their energy efficiency levels. Ticks will be commonly used to illustrate an appliance's energy performance levels with the more ticks an appliance has meaning the more energy efficient it is. For example, most fridges are now seen to have at least two ticks - look out for this the next time you're browsing for fridges online.
If you are unlikely to or unsure about committing to a home appliance, consider
Levande
by Electrolux Group. It is an appliance service solution, powered by Electrolux from July 2022. It allows consumers to rent home appliances at a fixed monthly subscription fee. Once you have finished using the appliance, you can have it picked up, returned and cleaned - all inclusive.
Find more tips on how to live more sustainably by following
our blog
: https://www.levande.com.sg/blog/